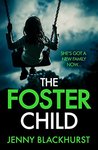 When child psychologist Imogen Reid takes on the case of 11-year-old Ellie Atkinson, she refuses to listen to warnings that the girl is dangerous. Ellie was the only survivor of a fire that killed her family. Imogen is convinced she's just a sad and angry child struggling to cope with her loss. But Ellie's foster parents and teachers are starting to fear her. When she gets upset, bad things seem to happen. And as Imogen gets closer to Ellie, she may be putting herself in danger…
Click to buy The Foster Child by Jenny Blackhurst
Having previously loved Jenny Blackhurst's Before I Let You In, I was really excited to read The Foster Child. This book is another well-written, slow-burning thriller which raises lots of questions from the start. I could really empathise with the characters of Imogen and Ellie (although some of the other characters were horrible!)
It is quite an emotive read overall: there's a lot of unhappiness here, some of the passages about Ellie's school mates made for uncomfortable and upsetting reading and the death scene is creepy and scary.
I did suspect where the story was going towards the end, so I didn't feel totally surprised by the conclusion…until the final couple of pages gave me something to think about!!
I'm already looking forward to the next one. Thank you to NetGalley and Headline for the ARC of The Foster Child. 4/5 stars.