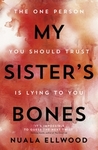 If you can't trust your sister, then who can you trust? Kate Rafter has spent her life running from her past. But when her mother dies, she's forced to return to Herne Bay – a place her sister Sally never left. But something isn't right in the old family home. On her first night Kate is woken by terrifying screams. And then she sees a shadowy figure in the garden… Who is crying for help? What does it have to do with Kate's past? And why does no one – not even her sister – believe her?
Click to buy My Sister's Bones by Nuala Ellwood
Wow. This is a slow burner that creeps slowly up your spine, grips you round the throat and doesn't let you go! I don't feel I can say too much without giving away spoilers but it is completely compelling with a shocking ending.
It's a very powerful book, with a strong voice. I'm not normally a fan of the present tense or even the first person perspective but both work really well with this narrative. It's not action-packed or gore-filled, but it is absolutely riveting. I read it in just over a day and couldn't put it down.
With huge thanks to NetGalley and Penguin Books (UK) for the ARC of My Sister's Bones.