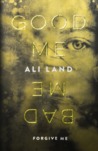 Annie's mother is a serial killer. The only way Annie can make it stop is to hand her in to the police. With a new foster family and a new name – Milly – she hopes for a fresh start. Now, surely, she can be whoever she wants to be. But as her mother's trial looms, the secrets of Milly's past won't let her sleep . . . Because Milly's mother is a serial killer. And blood is thicker than water…
Click here to buy Good Me Bad Me by Ali Land
Uncomfortable?  Yes.  Disturbing?  Yes.  Brilliant?  Yes!
Good Me, Bad Me is one of the best books I've read recently: I could barely put it down and when I did I couldn't stop thinking about it. I was hooked from page one and, although it took me to some very dark places, Milly's story was totally compelling. It isn't for the faint-hearted but if you want a clever, gripping psychological thriller, look no further. This will stay with me for a very long time and I look forward to reading more from Ali Land.
Huge thanks to NetGalley, Penguin UK – Michael Joseph and Ali Land for the opportunity to read this ARC.